ED570
Sales Literature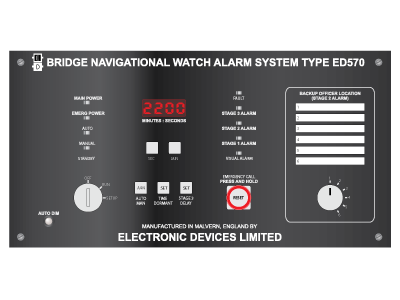 The ED570 Bridge Navigational Watch Alarm System (BNWAS) is designed to monitor bridge activity and detect operator disability that could lead to marine accidents. The system monitors the awareness of the Officer of the Watch (OOW) and automatically alerts the Master or another qualified crew member if for any reason the OOW becomes incapable of performing his duties. This is achieved by a series of indications and alarms to alert first the OOW and, if he is not responding, then alert the Master or other qualified crew members
Features:
Automatic mode: operational whenever the ships heading or track control is engaged.
Manual mode: permanently operational.
Motion sensor input from PIR/Microwave detector automatically monitors the OOW movements.
NMEA output for connection to voyage data recorder.
Activity input from devices such as Radar, ECDIS and VHF automatically monitors bridge activity.
Built in bridge visual and audible alarm unit.
Built in backup Officer location selector switch.
Main and Emergency supply input with automatic change over.
Time Dormant (Td), the time before the first alert occurs can be adjusted between 3 and 12 minutes.
For larger vessels the delay between stage 2 and stage 3 alarms can be adjusted between 90 seconds and 3 minutes.
Emergency call facility to request immediate assistance on the bridge.